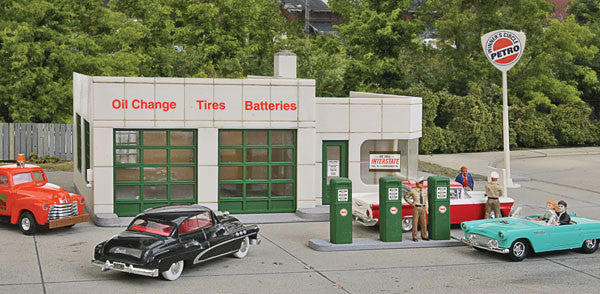 Winner's Circle Petro
Introduced in the late 1930s, box-style gas stations like Winner's Circle Petro sprang up from coast to coast and remained a standard well into the 1950s. Combining the office, restrooms and service bays into one structure, they provided a uniform, neat appearance that attracted motorists. Lots of windows made them bright and cheerful, as did the enameled steel walls decorated in company colors. Although newer stations have taken their place, many survive today and of those some have been repurposed as independent garages, body shops, retail stores and offices. A few have even been converted into private homes! 
Authentic styling looks great on any vintage or modern street scene. Three styles of pumps are included to match your era, along with colorful decal signs for the finishing touch.
North American design used by major oil companies and independents
Found on busy streets from late 1930s to the present
Two service garage bays
Two service islands
Two tall roadside signs
Three styles of gas pumps for 1930s, 1950s and 1980s scenes
Office area with large windows
Decal signs
Molded in appropriate colors and clear glazing
The finished Winner's Circle Petro model measures: 4 x 6 x 2-1/16"
---
Share this Product