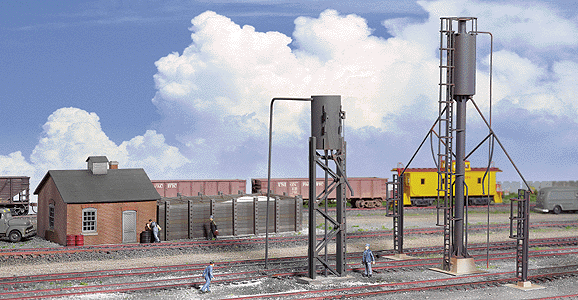 Sanding Towers & Drying House
The Walthers Cornerstone HO Scale Sanding Towers and Drying House kit is essential for adding realism to steam and diesel-era locomotive servicing scenes. Every railroad had its own ideas about sand house construction, so most were built to meet local conditions and seldom followed standard plans. Since diesels also needed sand, these structures remained in service years after the last steamer had been retired. This model fits any busy terminal and includes a unique brick drying house, a large open storage bin, and piping. Both steam and a larger modern-era sanding tower are included to fit your modeling era. 
Brick drying house
Detailed wooden storage bin
Early and late-style towers included
Realistic piping
Great for steam or diesel-era layouts
Decal signs included
Easy-to-build plastic kit
As shown, the Sanding Towers and Drying House kit components measure: Early Sanding Tower: 1-7/8 x 7/8 x 2-7/8"  Late Sanding Tower: 3-1/2 x 3/4 x 4-7/32" Drying House: 1-11/16 x 1-13/16"  Storage Bin: 1-11/16 x 3-1/2" 
---
Share this Product