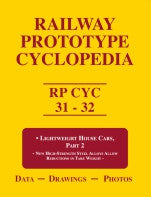 Railway Prototype Cyclopedia Volumes 31-32
Railway Prototype Cyclopedia Volumes 31-32 Double Issue!

Lightweight House Cars Part 2 (265 pages)
by Patrick C. Wider
Continuing the series covering American box, automobile, and refrigerator car designs, the article describes the lightweight, low-alloy steel house cars built during the 1930s to early 1950s. During this period a number of railroads and private car builders sought to reduce the tare (empty) weight of their house cars through the use of various high-strength steel alloys including United States Steel Cor-Ten, and Man-Ten Steels, Bethlehem Steel Company Mayari-R Steel, Youngstown Sheet and Tube Company Yoloy Steel, Republic Steel Corporation Aldecor andDouble Strength Steels, Inland Steel Company High Steel, Great Lakes Steel Corporation N-A-X High Tensile Steel (Ductiloy Steel), Jones & Laughlin Steel Corporation Otiscoloy Steel, and Alan Wood Steel Company Dynaloy Steel. Lower tare weights were intended to significantly reduce transportation fuel and operating costs. A brief history of the use of these new steel alloys for railway car construction is included as well as their brief impact on the tare weights of numerous box and automobile cars. Included are 5 tables, 36 industry trade ads, 99 diagrams, and 234 photographs of the experimental and production house cars built during the late steam era that made use of the new high-strength steel alloys. Interestingly, the actual weight saved through the use of the high-strength steel alloys in the various house car designs ranged from significant to almost meaningless. Costing more than the conventional open-hearth steels, the experiment in their use was relatively brief and of questionable value. Nevertheless, the brief experiment resulted in a significant number of unique freight cars of interest to the railroad historian and model railroad enthusiast. The article includes relevant house cars for the following railroads: ACL, AT&SF, B&LE, B&O, BS, C&NW, C&O, CB&Q, CGW, CIL, CMStP&P, CRI&P, D&H, D&RGW, DL&W, EJ&E, GN, KCS, MDT, MRS, MSC, NKP, OSL, OWR&N, PM, PRR, REX, SP, SP&S, SSW, T&NO, UP, and W&LE.
---
Share this Product