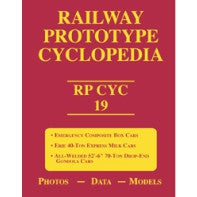 Railway Prototype Cyclopedia Volume 19
Emergency Composite Box Cars (50 pages) by Patrick C. Wider
This article is the fourth in a series of articles that cover a number of American box car designs that were built in large quantities during the first half of the 20th Century. In this article, Pat Wider covers the single-sheathed and plywood-sheathed 40' and 50' emergency box cars constructed during World War II following restrictions imposed by the War Production Board.
Erie 40-Ton Express Milk Cars (10 pages) by Patrick C. Wider
The article describes and illustrates the unique Erie express milk cars built during the 1930s by Greenville Steel Car Company. Also discussed and illustrated are some of the cars converted for express baggage service.
Family of All-Welded 70-Ton Drop-End Gondola Cars Based on PRR's Class G31. (53 pages) by Ed Hawkins
The article describes and illustrates an interesting group of subject cars first built by the Pennsylvania Railroad (Class G31) in 1948-1950, followed in the 1950s with derivatives built by American Car & Foundry and Pullman-Standard for Pennsy, Atlantic Coast Line, Birmingham Southern, Delaware & Husdson, Delaware, Lackawanna & Western, Southern Pacific, Wabash, Sacramento Northern, Western Pacific.
---
Share this Product