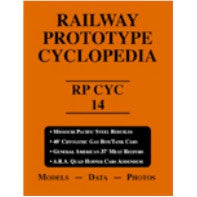 Railway Prototype Cyclopedia Volume 14
Missouri Pacific Steel Rebuild Box Cars (including the original single and double-sheathed cars) (39 pages) by Ed Hawkins
Considered Missouri Pacific's "signature" box cars, the 1950s 36' and 40' steel rebuilds were truly unique as they reused underframes and ends (mostly) from cars built from 1924-1930. Rebuilt cars received new all-steel 10-panel riveted sides, new Youngstown doors, and new diagonal panel roofs. The article also presents the original cars, including interim changes made before the rebuilding program. The rebuilds were painted either freight car red for general service or in Eagle passenger-train colors for L.C.L. Eagle Merchandise Service. A two-page roster and time-line are also included.
40' Cryogenic Gas Tank/Box Cars (38 pages) by Patrick C. Wider
From the late 1930s to early 1960s, distinctive tank cars disguised as all-steel box cars were built by Pressed Steel Car Co., General American Transportation Corp., and American Car & Foundry for the transportation of cryogenic gases. Shown are numerous builder's photos and in-service photos of cars leased to Linde, Air Reduction, and National Cylinder Gas. Included are a roster and engineering drawings of selected cars showing a general configuration of the tank and box car as well as details such as roof hatches and end doors. 
General American 37' Meat Reefers (21 pages) by Patrick C. Wider
From the late 1930s through the 1950s, Midwestern slaugherhouses and meat packers leased a significant quantity of modern 37' refrigerator cars with wood superstructures built by General American Transportation Corporation. Dubuque, Kingan & Co., Dugdale Packing, and Oscar Meyer are just a few examples of the shippers that leased these cars owned by General American with G.A.R.X. or U.R.T.X. reporting marks. Also included is a roster. 
1926/1929 A.R.A. Quadruple Hoppers Addendum (7 pages) by Ed Hawkins
Presented in the addendum are additional in-service photos that have been acquired since the publication of the original article in Volume 5. These include cars for original owners B&O, C&O, Erie, K.C.S. (a later all-welded version), MILW, and M.P., as well as mid to late 1950s second-hand owners Montour and Norfolk Southern, the latter of which leased cars with extended sides for wood chip service. Also included is an updated roster and ORER time-line table.
---
Share this Product