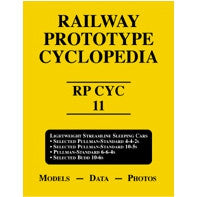 Railway Prototype Cyclopedia Volume 11
Railway Prototype Cyclopedia Volume 11

Six Pullman Lightweight Passenger Cars by Pat Wider
Presented in Volume 11 are four selected groups of Pullman lightweight streamline passenger cars, two of which had specific variations to make six unique arrangements. The four main groups discussed include selected Pullman-Standard 10-5, Pullman-Standard 6-6-4, Pullman-Standard 4-4-2, and Budd 10-6 sleeping cars. The prototype versions match, to an extent, HO-scale models available from Walthers. But by no means are the contents limited to these specific configurations. Included in this volume is information that applies to virtually all lightweight sleeping cars with comprehensive attention paid to the underbody equipment. There are summaries and detailed descriptions, photos, illustrations, diagrams, and tables of Pullman's sleeping car accommodations, materials used to construct lightweight cars, electrical systems, air-conditioning systems, heating systems, braking systems, trucks, hand brakes, draft gear and couplers, steam connections, as well as a few other miscellaneous topics. Numerous builders' photos and in-service photos are provided to show the various railroads operating these cars. A substantial number of builders' photos are printed landscape format on the page for maximum size and visibility of detail. Several pages are devoted to the Walthers models with color photos and descriptions of the many positive aspects of the models as well as areas where modifications are necessary for a more accurate rendering.
---
Share this Product