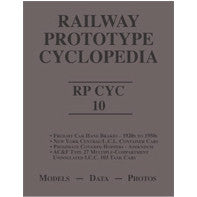 Railway Prototype Cyclopedia Volume 10
Freight Car Hand Brakes - 1920s to 1950s (59 pages) by Pat Wider
One item common to all freight cars is a hand brake. During the 1920s through 1950s a wide variety of types and styles of hand brakes were available. This included the use of vertical staff hand brakes with the wheel in a horizontal plane, geared power hand brakes with the wheel in either a vertical or horizontal plane, ratchet hand brakes, and lever hand brakes. Over time hand brake manufacturers introduced numerous changes to mechanisms and to the appearance of the wheels. Presented is a history of hand brake devices with more than 100 photos and illustrations of the many hand brakes installed on freight cars during this period. Also provided are tables listing A.A.R. certified geared hand brakes as of May 1944 and June 1959.
New York Central 47'-11" Drop-Side Container Cars (11 pages) by Pat Wider
During the early 1930s the New York Central Railroad and L.C.L. Corporation continued the development of an early intermodal "Container-On-Flat-Car (COFC) service. The L.C.L. Corporation purchased 335 such cars from Standard Steel Car Company and American Car & Foundry Company in 1930 and 1931 with each car equipped with 6 containers and having an inside length of 47'-11". These drop-side cars were used in COFC service into the early 1950s before being converted by NYC with the permanent closing of the drop-sides. The article presents a history of the cars with 20 photos and illustrations.
70-ton Phosphate Quadruple Covered Hopper Cars - Addendum (5 pages) by Pat Wider
In Volume 4 of Railway Prototype Cyclopedia, we presented an article on 70-ton quadruple covered hopper cars for use in dedicated phosphate service. The cars were owned by Atlantic Coast Line, Seaboard Air Line, and Shippers' Car Line. Wabash later purchased some of these cars for sand service. Additional material is presented that includes five in-service photos, two model photos, and two illustrations of these cars.
AC&F Type 27 Uninsulated Multiple-Compartment I.C.C. 103 Tank Cars (30 pages) by Ed Hawkins
From 1928 through the late 1940s, AC&F developed and built a myriad of tank cars constructed to their Type 27 design standard. Included were several hundred multiple-compartment cars of either insulated or uninsulated configurations. Presented in this volume are uninsulated cars of this type, nearly all of which were either two-compartment or three-compartment. A lone five-compartment car was built. The tank capacities ranged in size from 4,000 gallons to 8,000 gallons with 6,000 gallons being the most common. Included is a history of the development of Type 27 tank cars with a comprehensive roster and more than 50 photos and illustrations of these unique multiple-compartment cars used for transporting liquid materials.
---
Share this Product