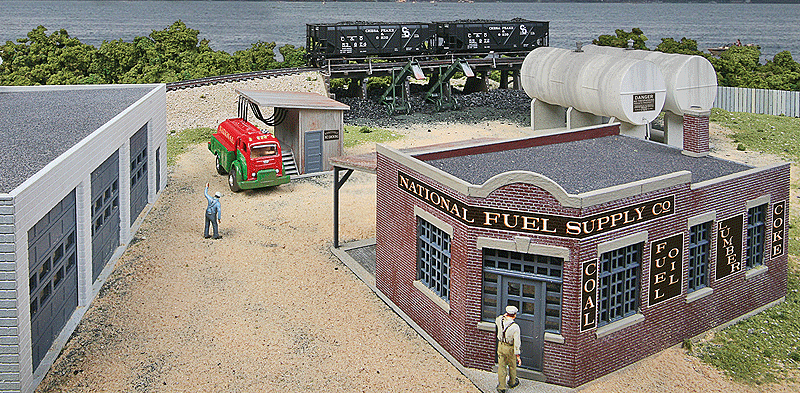 National Fuel Supply Co.
The prototypes for bulk fuel distributors like the Walthers Cornerstone National Fuel Supply Co. once important trackside businesses in any town. At home in cities and towns, dealerships like this distribute fuel oil, gasoline and other products locally. While in the modern era coal for home heating is largely a thing of the past, many of these businesses have been repurposed for other uses. This easy-to-build plastic structure kit includes two steel storage tanks, a truck loading rack with piping, hopper car unloading trestle, track approach ramp, brick office and block shop building. Decal signs for fuel dealers and modern landscaping business round out the kit. Like the prototypes, the various pieces the National Fuel Supply Co. kit can be arranged to fit available space and are also at home at huge industry complexes like steel and paper mills.
Fits to 1920s to the 1960s
Realistic brick office
Arrange to fit available space on your layout
Includes loading rack with piping
Block shop building
Two steel storage tanks with supports
Hopper unloading trestle and track approach ramp
Decal signs for fuel dealers and modern landscape service
Molded in six colors and clear plastic
Measures: Coal Trestle: 24-1/2 x 4-3/8 x 1-3/4", Office: 4-7/8 x 4-1/4 x 2-3/8", Oil Tanks: 3-3/4 x 3-3/4 x 2-3/4",  Garage: 7-1/8 x 4-1/16 x 2-1/2",  Pump House: 2 x 2-1/8 x 1-3/4"
---
Share this Product