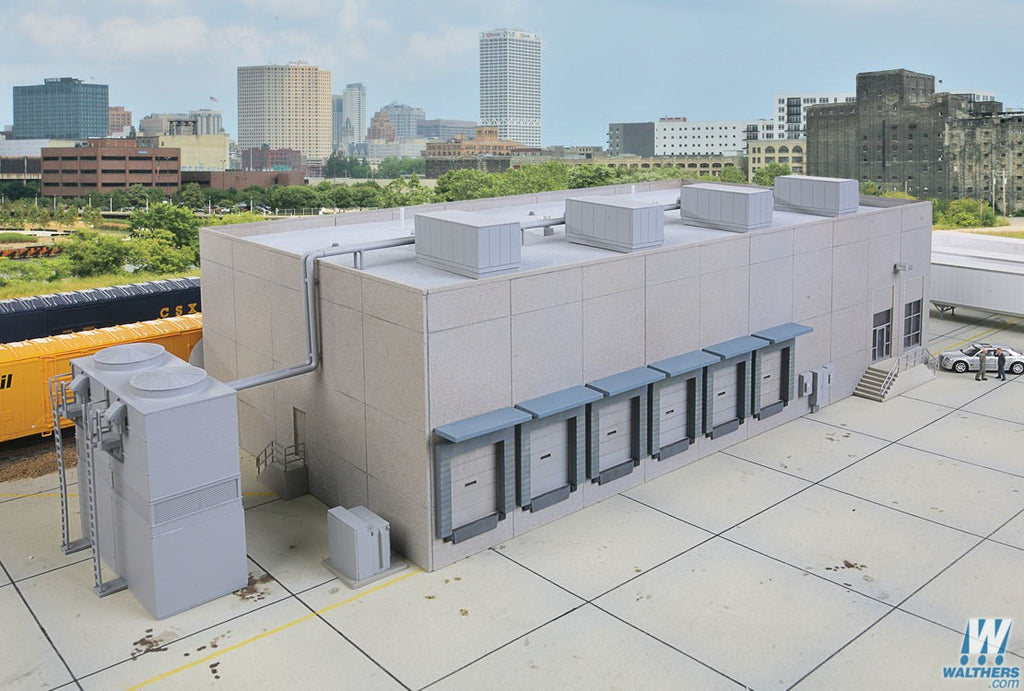 Modern Cold Storage Warehouse
The Walthers Cornerstone Modern Cold Storage Warehouse brings a refrigerated facility to your 1970s and later layout Based on modern tilt-up pre-cast concrete structures used across the continent, this kit is a welcome addition to any modern industrial park. Use it as a destination for your refrigerator cars and reefer trucks as well as for insulated RBL-style boxcars. This kit includes multiple truck and railcar doors, exterior refrigeration units, electrical boxes, rooftop air conditioning HVAC units and more. This modern Cold Storage Warehouse can be built in several different configurations; as shown it measures: 20-1/2 x 9-1/8 x 5-1/4".
Fits layouts from the 1970s to the present
Easy way to model "tip-up" concrete panel construction used for all types of trackside warehousing, light and heavy manufacturing plants, strip malls, schools, hotels, offices, apartments and more across North America
Can be built in multiple configurations
Includes alternate doors and windows
Correct height truck and railcar loading docks with weather bellows/seals
Customize in minutes with molded cut lines, expand with additional kits or build bigger with add-on accessories available separately
Great trackside customer by itself or serving a larger industry
Industrial electric meters and junction box
Four roof-mounted air conditioners
Modern square security lights - upgrade to working models with Modern Wall Light 3-Pack (949-4318 sold separately)
Separate doors, windows, entry ramp and stairway
Molded in 5 colors and clear plastic
Main Building: 20-1/2 x 9-1/8 x 5-1/4"
Cooling Towers: 3-5/16 x 1-13/16 x 3-1/4"
Overall height with piping, 4-5/8" 
---
Share this Product