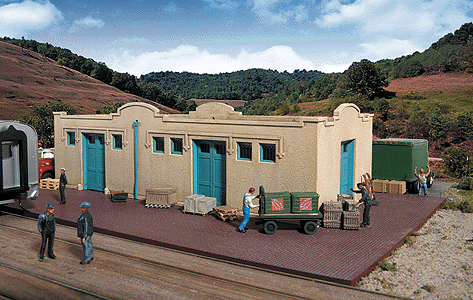 Mission-Style Freight House
Walthers HO Mission-Style Freight House Kit
9-1/2 x 6-1/2 x 2-1/2"
Authentic Southwestern Flavor for your Railroad 
The Walthers Cornerstone Mission-Style Freight House is based on a standard Santa Fe design used across the railroad. From passenger train names to stations, the Santa Fe led the pack in selling the American southwest as a vacation destination. To carry the flavor of the old west, many stations and their attached or adjacent freight station (including brick ones) were reworked with pinkish-tan stucco walls, tile roofs and mission-style trim to resemble traditional adobe buildings. While the depot was a Santa Fe design, similarly styled depots and freight houses were used on several railroads. This easy-to-build kit includes the realistic stucco structure, window glazing, wood trim, a brick platform and realistic printed signs. Several of these structures still stand in 2017 even in locations where the depot is long gone and most have been repurposed for other uses including MOW storage buildings, so the Mission-Style Freight House will look great on any layout set between the 1930s and the present.
Santa Fe's stucco-exterior freight house used systemwide
Use alone or combine with Mission-Style Depot (933-2920, sold separately)
Great for smaller cities and towns
Separate windows and doors
Brick platform
Realistic printed signs
Molded in four colors and clear
*Out of Production*
---
Share this Product