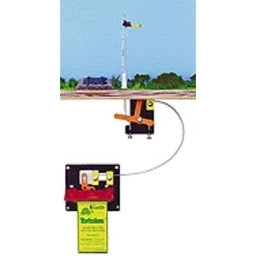 Circuitron Remote Signal Activator
Circuitron Remote Signal Activator
Mounting bracket and mechanism utilize the Tortoise™ (not included) and a special drive wire cable assembly to remotely actuate any crossing gate, train order board or upper/lower quadrant sema-phore signal having a vertical control wire extending below the layout.  Signals of this type include ones manufactured by NJ International, Tomar and others. There are fully adjustable, precise, stops provided at both ends of travel for excellent repeatability.  The total travel  can be adjusted between 0.1" and 0.7" for use in all scales.  Can drive 2 cables from the one mechanism, if desired, for dual crossing gate installations.  3 position Semaphore control can be achieved with the addition of the Circuitron SD-2 Semaphore Driver.
---
Share this Product