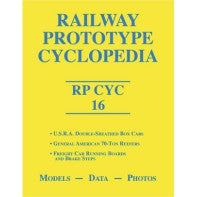 Railway Prototype Cyclopedia Volume 16
U.S.R.A. 40-ton Double-Sheathed Box Cars (53 pages) by Patrick C. Wider
The article is the first in a series of articles that will cover several "standard" American box car designs that were built in large quantities during the first half of the 20th Century. In this article, Pat Wider covers the 25,000 double-sheathed wood and steel box cars that were built from 1918 to 1922 following a United States Railroad Association standard design. The comprehensive series of articles will include the contemporary U.S.R.A. single-sheathed wood & steel and double-sheathed all-steel box cars operated by a large number of U.S. railroads.
General American 70-ton All-Steel Refrigerator Cars (10 pages) by Patrick C. Wider
Pat Wider describes and illustrates the unique 1930s General American 70-ton "super size" all-steel refrigerator cars owned and operated by General American Transportation Corporation and leased to the Milwaukee Road and the Elgin, Joliet and Eastern Railway. These cars presaged the modern 50-foot cars of the 1950s.
Freight Car Running Boards and Brake Steps (53 pages) by Ed Hawkins
Ed Hawkins covers the various types of running boards and brake steps installed on freight cars prior used from the early 1900s through 1960 and to their banishment in 1974. Included are numerous photographs, tables, diagrams, descriptions, and contemporary trade publication advertisements. This is a must have article for serious freight-car modelers.
---
Share this Product