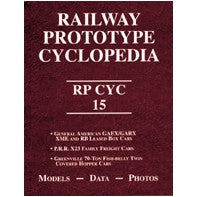 Railway Prototype Cyclopedia Volume 15
Railway Prototype Cyclopedia Volume 15

General American GAEX/GARX XME and RB Leased Box Cars (46 pages) by Patrick C. Wider
The extensive material covers the 1950s state-of-the-art General American 50' high quality XME box cars as well as their 50' RB insulated box car siblings that were leased by several well-known class I railroads. The article also includes considerable information on General American–Evans DF Loaders that equipped these cars as well as many others built during the period.
Pennsylvania Railroad X23, X24, K7, and R7 Freight Cars (41 pages) by Patrick C. Wider
The comprehensive article describes and illustrates the P.R.R. single-sheathed box cars, automobile cars, stock cars, and refrigerator cars all built to a standard 1912 railroad propriety design. The cars had long lives and a number of the refrigerator cars were subsequently transferred to Fruit Growers Express and the National Car Company.
Greenville Steel Car Co. 70-Ton Fish-belly Side Sill Covered Hopper Cars (18 pages) by Ed Hawkins
Covered are the distinctive fish-belly Greenville 70-ton covered hopper cars that were built from 1947-1953 and bore many design characteristics of similar cars built by American Car & Foundry as well as several other major American freight car builders of the period.
---
Share this Product